Many Drug–receptor interactions are characterized by complex binding modes that are far away from the behavior of a standard 1:1 model. This is the case of Heparin (Hp), one of the most commonly prescribed anticoagulant drugs, which exerts its effect through its interaction with the serine protease Antithrombin (AT-III). Hp is a linear heterogeneous polysaccharide containing a specific pentasaccharide sequence that binds AT-III with high nanomolar affinity (responsible for the anticoagulant activity); but AT-III also binds other Hp sequences with lower affinity. Determining the content of AT-III binding pentasacchride in Low Molecular Weight (LMW) Heparins is a requirement for Pharmaceutical companies that manufacture this type of anticoagulants; due to the intrinsic heterogeneity of Hp, obtaining this information it is not straightforward (1).
We have developed a new protocol based on ITC and AFFINImeter to determine the content of AT-III binding pentasaccharide in Heparins, which is summarized in the following scheme: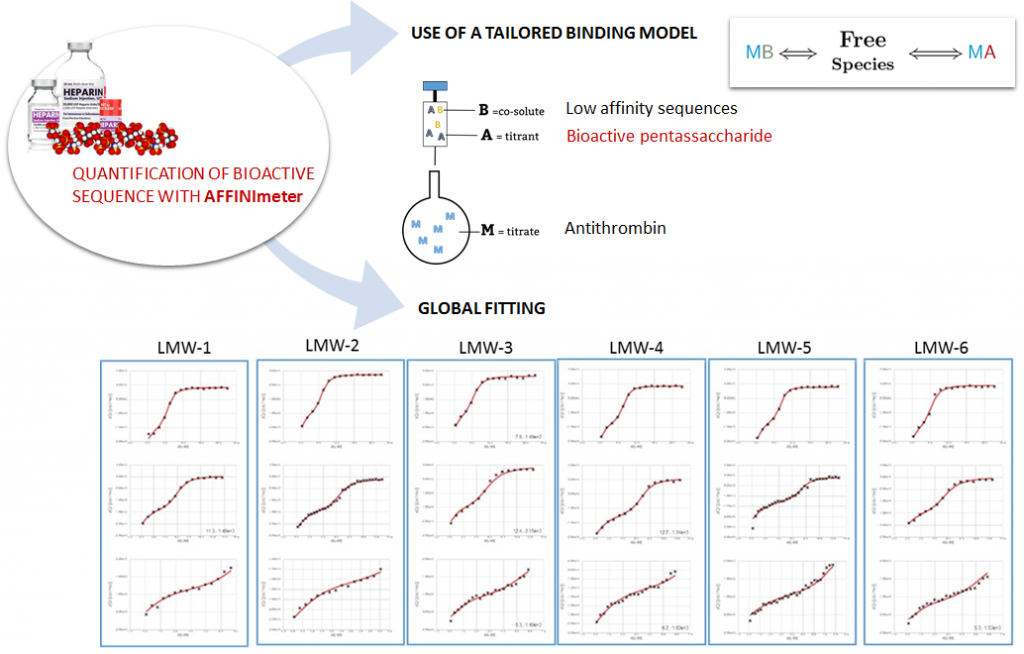 This method illustrates the great potential of the model builder and global fitting AFFINImeter tools to develop protocols of practical utility in the Pharmaceutical industry (2). We have successfully validated the protocol in the analysis of unfractionated Hp and a series LMW Hp in collaboration with the Pharmaceutical company Laboratorios Rovi (http://www.rovi.es/).
References
Nandurkar H., Chong B, Salem H, Gallus A, Ferro V, McKinnon R. Low-molecular-weight heparin biosimilars: potential implications for clinical practice. Internal Medicine Journal, 2012, 44(5), pp 497–500.

For a detailed description of the protocol contact us at support@affinimeter.com