June 24, 2014 Spanish National Research Council (CSIC)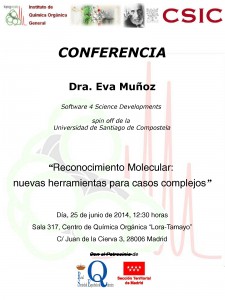 Dr. Eva Muñoz, a member of our scientific department, was invited to the Centre for Organic Chemistry Manuel Lora Tamayo (CSIC) in Madrid where she gave a talk entitled "Molecular Recognition: new tools for complex situations". During the talk she described various examples of complex interacting systems difficult to evaluate with standard analytical methods, and the use of new experimental and analytical approaches to circumvent these problems. Here, AFFINImeter was presented as a novel analytical tool for the analysis of complex ITC data.
Moreover, she introduced AFFINImeter in a seminar at the Biological Research Centre, CIB (CSIC, Madrid) explaining how it can be a must tool in the molecular recognition research field. She described the main features of the application like the "model builder", an easy-to-use tool with which researchers design their own binding models, the "global fitting" of a series of isotherms or the analytical tool to explore possible "local minima" generated from the fitting procedure.