The interaction between two species, i.e. a protein and its ligand, is defined by means of the equilibria existing between free and bound species and the binding constant(s) associated to each equilibrium. This scenario can be described in terms or reaction schemes following two approaches:
a) Based on equilibria between existing stoichiometric species, to obtain stoichiometric binding constants and
b) Based on equilibria between the ligand and specific interaction site(s) of the protein, to obtain site binding constants.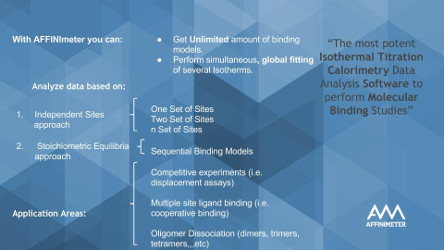 The understanding of both approaches/type of binding constants is key for a correct interpretation of the results after data analysis, in order to get key structural and mechanistic information of the binding event; i.e. the presence or absence of cooperative interactions when a ligand binds to a multivalent receptor.
The design of binding models for ITC curve fitting with AFFINImeter can be done following these two approaches, to perform analysis based on stoichiometric and/or site binding constants.
The scientific team of AFFINImeter has just released three NOTES regarding this subject to guide users into the right selection of binding model approach and a better understanding of stoichiometric vs site binding constants.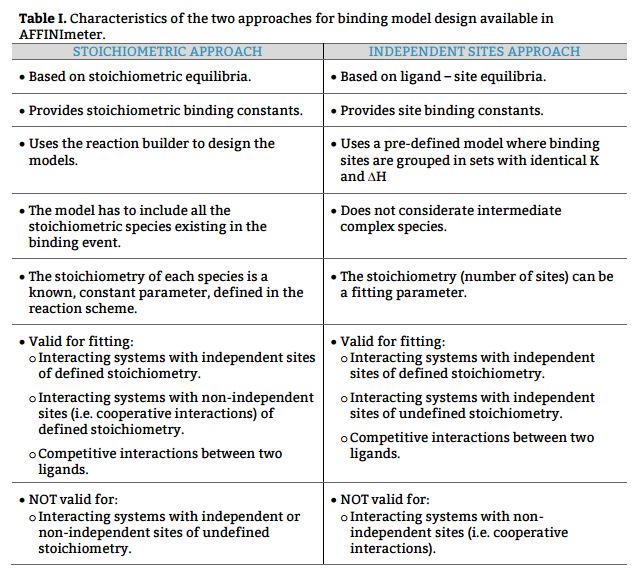 DOWNLOAD PDF FILES HERE:
Or visit the RESOURCES section of AFFINImeter web page where you find tutorials, webinars, cases of use, among others.