AFFINImeter is a software designed to further exploit the potential of your Isothermal Titration Calorimetry instrument.

Contact us to request an Online Demo
We want to offer our help to guide you through AFFINImeter. If you are interested in the analysis of a particular ITC data and you don't know which binding model you should apply or how to design it with AFFINImeter, do not hesitate to contact us!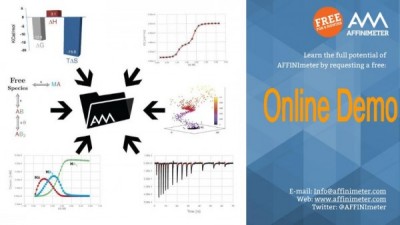 Meanwhile you can consult our educational material (Videotutorial, Cases of Use, Notes and Webinars) in our Web Page or read the Tutorials and examples section.
Remember that as a launching promotion you can use AFFINImeter free during the first 6 months!