Isothermal Titration Calorimetry Experiment Simulation
The Simulator tool available in AFFINImeter is completely free under registration. This is currently the only alternative to design complex Isothermal Titration Calorimetry (ITC) experiments. The Simulator allows plotting ITC curves (evolved heat as a function of the system concentration) together with a phase diagram of the different chemical species that are present in the solution regardless the complexity of the interaction mechanism between the involved molecules.

Avoid Trial and Error Assays
Using the AFFINImeter Simulator you will be able to pre-visualize the results of an experiment, provided that you have an approach for the interaction mechanism of your molecules and of the corresponding thermodynamical parameters. This tool will guide you in the optimization of the most advantageous combination of experimental parameters: the concentration and location (in the sample cell or in the syringe) of your compounds, the injection volume and the number of titrations; thus avoiding trial-and-error assays and saving time, reactants and money.
This tool is also useful to set the conditions under which the distribution of chemical species meet some special requirement (for instance, the solution dominated by a given chemical species). It can also be used for didactic purposes since it helps to illustrate how a chemical species can be displaced by another, to explain the difference between cooperative and non-cooperative processes or to explain the effect of endothermic and exothermic processes.
Applications in Drug Discovery
Isothermal Titration Calorimetry is a key technique in the development of drugs since it assess the affinity between molecules. The most typical application is to determine the free energy of interaction between proteins and inhibitors. The AFFINImeter simulator tool allows simulating the displacement of a weak ligand by a strong ligand as a function of the concentration of the compounds involved in the experiment.
Advantages of the Simulator
Introduce your personalized thermodynamic model directly in chemical language (reaction scheme) and an estimation for the corresponding thermodynamic parameters. Even the most advanced models are easy to implement. Through the model builder AFFINImeter offers an unlimited amount of thermodynamic models for Isothermal Titration Calorimetry data analysis. If the model required for your system is not available, please, do not hesitate to contact us and we will try to implement it.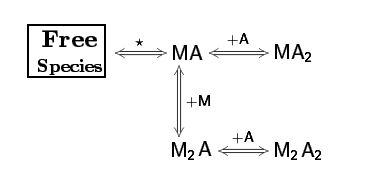 Start Using the Simulator
The AFFINImeter Simulator is free under registration. To learn how to use it, please read this tutorial.